Latest updates featuring Breanne Benson
24th April
- Breanne Benson James Deen Glam Fetish. Part pointe ballet shoes and part high heels these are the strangest shoes ever, but even though they're odd th
ey don't detract from Breanne Benson's hotness. Paired with James Deen this glamorous brunette with the natural body is a glutton for cock. Breanne virtually inhales cock and fucks back with gusto. A real diamond in the rough, don't miss Breanna Benson.
...Read More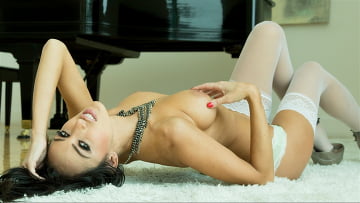 22nd March
- Hardcore Allure #2 brings us this beautiful scene starring Breanne Benson; too pretty for porn but she does it anyway. This statuesque, brunette knock
out looks stunning in lingerie and even better out of it! She's absolutely perfect from head to toe and from every angle. Watching her get fucked hard is almost wrong... almost..
...Read More